AC Repair Service In Las Vegas
Trusted Las Vegas Air Conditioning Repair Services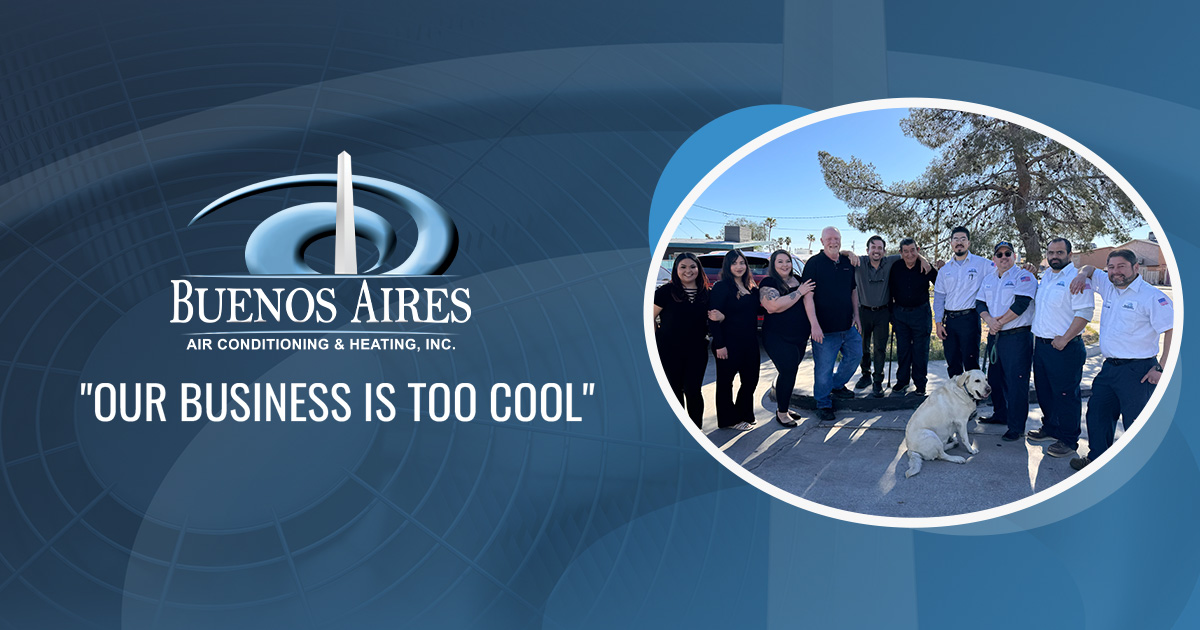 ​A broken air conditioner is something nobody who lives in Las Vegas wants to think about. With sweltering temperatures that can easily climb past 110 degrees in the middle of a summer afternoon, air conditioning is an absolute must for both home and business owners.
However, when something happens and you find yourself without air conditioning, help is fortunately just one quick phone call away. At Buenos Aires Air Conditioning & Heating, we offer a full range of air conditioning repair services designed to quickly identify your problem and get your cooling system back online as soon as possible.
Get your air conditioner fixed by the team at Buenos Aires Air Conditioning & Heating! Give us a call at (702) 930-3907 to schedule your appointment today.
What Are Signs That You Need AC Repair Services?
Knowing what warning signs to look out for can be a huge benefit for both your air conditioner's long-term health and your wallet. In many cases, the earlier you catch a problem, the cheaper and quicker the repairs can be. Some of the most common signs your air conditioner needs repairs include:
Strange sounds: All air conditioning units make some noise, but if you're hearing screeching, rumbling, or rattling noises it might be time to have our pros in to inspect your unit.
Strange smells: This is most common the first time you turn your AC on for the year. Mold and microbial growths can develop during the winter months, and our team can clear them out without too much of a hassle.
Your AC won't turn on: This is a pretty obvious sign that something's wrong, and is likely caused by either an electrical or mechanical issue.
Leaking: If you're noticing water accumulation at the base of your unit then you likely have a leak in a condensate line, the pan that collects extra water, or you have a refrigerant leak.
Inability to properly cool your home: This could be caused by broken or breaking parts, wear and tear, blocked airflow, or any number of other issues. It's best to call in our repair specialists to identify the source(s) of the problem and get your AC fixed ASAP.
Increased utility bills: It can be hard to tell if your AC isn't running as efficiently as it used to outside of your utility bill. If you notice a steady increase in that bill, there's a good chance your air conditioner isn't running as well as it should be, and could likely use a tune-up.
We're here to help you identify the problem you're currently dealing with, and help you find the perfect solution to get it resolved. We even help you avoid future breakdowns by targeting the true cause of your air conditioning issue rather than simply treating the symptoms. With a true repair, you can be confident your system is working exactly as it should be, rather than just simply working on borrowed time until the problem returns.
At Buenos Aires, we want to be the name you can depend on for all your air conditioning repair needs. Our team understands how important it is to get your air conditioner working again, and we offer repairs that are swift, and effective, and get you the cooling you need as soon as possible. We service all types of systems from most major name brands, and we always use OEM or name-brand replacement parts to ensure that your repair will last.
If you're not satisfied with the service you receive, let us know and we'll do whatever it takes to make things right. We even offer 24/7 emergency services because we know air conditioning problems don't always like to wait until your schedule opens up to impact your system. Whether it's the middle of the night, over a weekend, or even on a holiday, you can depend on us to be there and get your air conditioner fixed up and working again!
What Are The Benefits Of AC Repair?
Taking care of an air conditioning problem right then and there can save you both time and money. Apart from that, it will add comfort to your home and even improve your home's indoor air quality! Below we list some of the most exciting benefits that come with timely air conditioning repair services.
Benefits of AC repair include the following:
Adds comfort to your home
Improves indoor air quality
Eliminates unpleasant odors being circulated through your AC
Improves airflow throughout your home
You will have better AC efficiency and decreased humidity levels
You can upgrade your air conditioner through system add-ons (such as temperature controlling)
Gets rid of odd noises made by your air conditioner
Eliminates pests from your AC system
Contact our AC repair pros today to schedule an AC inspection.
Your Partner for Quality Air Conditioning Repair Solutions
A broken air conditioner can bring your summer to a screeching halt in a hurry. Not only does a home without air conditioning become extremely comfortable for just about everything, but it can do so in as little as an hour or two. In fact, you'll start noticing an increase in indoor temperatures in as little as half an hour in many cases! That means you can't delay when it comes to getting your air conditioner fixed—call right away and get the help you need from experienced and highly-trained technicians from Buenos Aires Air Conditioning & Heating.
We can even help you avoid potential future breakdowns as well! With a quality maintenance and tune-up service, our team can help you keep your air conditioner working dependably throughout the year. With an annual tune-up, you'll enjoy more efficient cooling, a longer-lasting air conditioner, and a more dependable system that's significantly less likely to break down on even the hottest and most brutal summer days.
Need Las Vegas AC repair? Trust Buenos Aires Air Conditioning & Heating and make sure your system gets the care it deserves. Contact us today.
Let Us Save The Day
Learn why we're the right choice.
Customer Service

We're working to provide quality service, treat your home with respect, and educate you so we can make the right decision for your home. We're not happy until you're happy!

Reputation

We've established lifelong relationships with our customers & have built a reputation that stands behind every job completed.

Quality Work

We have a two year warranty on all parts and labor and add in an extra year for our membership customers because we guarantee the work we do.

Financing Options

Paying for a system replacement can be costly, and stressful. We offer options to our customers to provide them with the services needed for their home.
Don't Take Our Word For It
Read Our Customer Reviews
I would use them again. - Garry A.

Good price with professional attitudes. - Michelle M.

Reliable and trusted service. - Satisfied Customer

Even works nights and weekends if needed. - Jan A.

Their team is there for me. - Yisenia S.